romance manga recommendations webtoon among men 
If you are looking for romance manga recommendations. I'll give you some reason why you must read among men on webtoon!
Quick resume:
Gaby is a girl that needs to pay the hospital debts where her mother is, and the only way that she can do it is by crossdressing herself as a guy to work in one of the most prestigious banks in the world, can she survive in a male-dominated world and her new billionaire boss pretending to be a boy?
romance manga recommendations webtoon
1. You can read Among men for free on webtoon LoL
Who does'nt love free stuff?
The best part when someone recommends something to read is when it's free! You can read among men for free on webtoon, you don't need to be a Patreon, or have a premium subscription. Just sign up on the app and you are on board.
romance manga recommendations
romance manga recommendations
Even if a webtoon has an interesting story idea, 90% of webtoons fails in plot structure
Among men was written using Blake Snyder's  screenwriting structure "save the cat", I've already had the whole story written, so there wont be any kind of plot hole of dragged plot.
2. Is a romance manga with good art
Even if my webtoon is based on typical manga art, I tried to give it an original twist mixing it with the cartoonish style from 20th-century cartoons art style (and this is because my story is based on 20th-century, somehow is a historical manga).
extra twits: sometimes I like to animate some panels just for fun lol
These are some panels from my comic if you're wondering how it looks like, as you can see most of the time is manga style but I manage vintage retro cartoon style on my panels too.  
romance manga recommendations
3. Among men has a well-structured plot.
4. Interesting cast of characters and important message on the story
Among men has a very fun cast of characters, all of them are very different from each other, and has interesting chemistry around them, no room for mary sues or hot cliche bad boys as male leads.
Also, this is not only a romance manga, the story itself has a strong message about why are important gender equality and women's rights. there are more than just romance plots in this story.
5. Real testimonials are loving this story so far!
You can see comments on my story about how much they are enjoying the comic, so there is no reason why you shouldn't give it a try! 
EXTRA:
If you want to make your own webtoon, manga, comic, webcomic, or manhwa this webpage has the goal to help you with your dream to make webcomics, check out my tutorials page and you will find lots of tips on art, writing, publishing and marketing your comic, don't miss a chance to enter and show your story to the world.
See you! 😀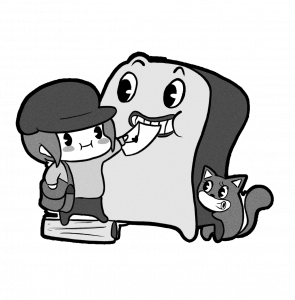 Do want to know how to make money with your comic?
Get my business model blueprint for webtoon / manga / comics and discover how can you make money with your work.
If you found this interesting, don't forget to thare it with someone else!